Eyebrow shapes can affect how other people make and give their impression to you. A perfectly shaped and arched eyebrow "wows" everyone. Working on eyebrows is one of the hardest things, especially if you have few to no hair at all. It can sometimes be frustrating seeing your face with no eyebrow hair at all. This article can help you shape and define your eyebrows perfectly.
Materials needed
Eyebrow pencil
Eyebrow powder
brush
Tweezers
Eyebrow razor
Eyebrow stencil
Shaping your eyebrows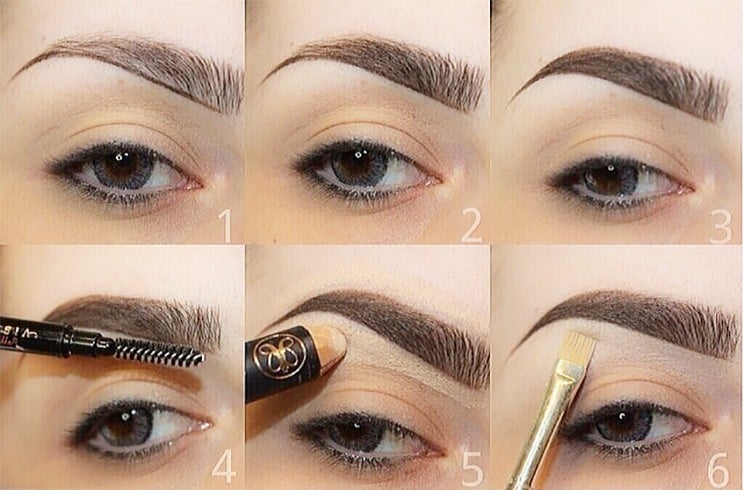 Always start with clean and dry eyebrows. You will be needing your eyebrow pencil, hold it straight beside your nose to see where your brow should start, mark that point, then angle it outwards, about 45 degrees to check where it should end. Don't forget to mark that point too. Tweeze hair strays. Use brow razor to shave fine hairs that are too fine to be tweezed. Using a spoolie brush (it looks like the brush in your mascara wand), brush brows so you'll see uneven hair parts. Trim it with scissors. There will always be unruly hairs, brush it down suing spoolie brush and trim it again. Now that you're done cleaning and removing hair strays, we can now move and work to start filling your brows. There are two ways to start your brows. First is to line the underside of your brow and the other is to use short dash strokes to fill in sparse areas. Next, fill your brows with a brow powder using a brush. You can start on the arch of your eyebrow. Then without adding any product on your brush, continue outlining your brow up to the edge. Once you're done, tap extra powder and start lining the upper side of the brow. Don't make it to dark and harsh. It is best to make it light to look more natural. Use your spoolie brush to blend colors well. If you have a clear brow gel, you may use it for unruly hair. You can also use hairspray and spoolie brush as an alternative. Apply shimmery eye shadow on your brow bone to give your eyebrow makeup a clean look. Remember to blend it well so it will not look like a rectangular patch. Finish it with bold black mascara and you're done!
Additional tip:
For more dramatic look, use bolder shades of eye pencil.
If brow powder is not available, you may use eye shadow similar to your brow color.